The Observations about senatus consultum de nundinis saltus Beguensis
Keywords:
Roman law, Senatus consultum, provincia Africa, Lucius Africanus
Abstract
The province of Africa was one of the most important within the Roman Empire. Hence, a lot of source material, including epigraphic material, has been preserved, facilitating research in this area. The author took up the epigraphic source – senatus consultum de nundinis saltus Beguensis, dedicated to the organization of trade in the African province. The researcher presented the text senatus consultum, and then subjected him to critical analysis and commentary, confronting her arguments with literary and legal sources.
Downloads
Download data is not yet available.
References
Alföldy G., Fasti Hispanienses: Senatorische Reichsbeamte und Offiziere in den spanischen Provinzen des Römischen Reiches von Augustus bis Diokletian, Wiesbaden 1969.
Benzina ben Abdallah Z., Catalogue des Inscriptions Latines Paiennes du musée du Bardo, Roma 1986.
Benzina ben Abdallah Z., Du côté d'Ammaedara (Haïdra): Musulamii et Musunii Regiani, [in:] Antiquités africaines 28, 1992.
Besnier M., « s.v. nundinae », [in:] DSGR IV.1, Graz 1969.
Birley A. R., The Roman government of Britain, Oxford 2005.
Bitner B. J., Augustan Procedure and Legal Documents in RdGe 70, [in:] Greek, Roman, and Byzantines Studies 54, 2014.
Bonnefond-Coudry M., Le Sénat de la République romaine, de la guerre d'Hannibal è Auguste, pratiques déliberative set prise de décision, Roma 1989.
Brueggemann t., Nundinae als Bindeglied zwischen römische Administration und indigenen Gesellschaften im antiken Nordafrika, [in:] Orientwissenschaftliche Hefte. Mitteilungen des sFB differenz und Integration 6: Segmentation und Komplementarität- organisatorische, ökonomische und kulturelle Aspekte der Interaktion von Nomaden und Sesshaften, cur. B. Streck, Halle 2004.
Bruns K. G., Gradenwitz O., Fontes Iuris Romani antiqui, I, Leges et negotia, Friburgi in Brisgavia ‒ Lipsiae 1909 [Aalen 1958].
Buongiorno P., Gallo A., Marino S., Edoardo Volterra. Senatus consulta, Stuttgart 2017.
Buongiorno P., Senatus consulta Claudianis temporibus facta. Una palingenesi delle deli-berazioni senatorie dell'età di Claudio (41-54 d.c.), Napoli 2010.
Buongiorno P., Senatus consulta: struttura, formulazioni linguistiche, tecniche (189 a.c. – 138 d.c.), [in:] AUPA 59, 2016.
Caballos Rufino A., Eck W., Fernández F., El senatoconsulto de Gneo Pisón padre, Sevilla 1996.
Camodeca G., Per una riedizione dell'archivio ercolanese di l. Venidius Ennychus, [in:] Cronache ercolanesi 36, 2006.
Carlsen J., Dispensatores in Roman North Africa, [in:] A. Mastino (cur.), L'africa romana: atti del IX convegno di studio. Nuoro, 13-15 dicembre 1991, Sassari 1992.
Carton L., Une inscription relative au territoire des Musulamii, [in:] CRAI 67.1, 1923.
Chaouali M, Les nundinae dans les grands domaines en Afrique du Nord à l'époque romaine, [in:] Antiquités africaines 38-39, 2002-2003.
Charbonnel N., Bemougin S., Un marché en Numidie au IIe siècle après J.-c., [in:] RHD 54, 1976.
Corbier M., Interrogations actuelles sur la transhumance, [in:] MEFRA 128.2, 2016.
Cordovana O., Historical Ecosystems. Roman Frontier and Economic Hinterlands in North Africa, [in:] Historia 61, 2012.
Coudry M., Sénatus-consultes et acta senatus: rédaction, conservation et archivage des documents émanant du sénat, de l'époque de César à celle des Sévères, [in:] La mémoire perdue: à la recherche des archives oubliées, publiques et privées de la Rome antique, Paris 1994.
Cracco Ruggini L., Plinio il Giovane a proposito di "nundinae" private inter-cittadine: dispositivi giuridici e collusioni di fatto tra centro e periferia, [in:] Mercati permanenti e mercati periodici nel mondo romano. Atti degli Incontri capresi di storia dell'economia antica (Capri 13-15 ottobre 1997), cur. E. Lo Cascio, Bari 2000.
de Ligt L., Fairs and Market in the Roman empire. Economic and Social Aspects of Periodic Trade in a Pre-Industrial Society, Amsterdam 1993.
de Ligt L., Ius nundinarum and immunitas in I. Manisa 523, [in:] EA 24, 1995.
Desanges J., Catalogue des tribus africaines de l'Antiquité classique à l'Ouest du Nil, Dakar 1962.
du Plessis P. J., Ando C., Tuori K., The Oxford Handbook of Roman Law and Society, Oxford 2016.
Eck W., Caballos Rufino A., Fernández F., Das senatus consultum de Cn. Pisone patre, München 1996.
Eck W., Die Staatliche Organisation Italiens in der hohen Kaiserzeit, XXX, München 1979 (nella traduzione K. Fabian, S. Strassistato e amministrazione in epoca imperiale, Bari 1999).
Eck W., Documenti amministrativi: pubblicazione e mezzo di autorappresentazione, in: Epigrafia romana in area adriatica. Actes de la IXe rencontre franco-italienne sur l'épigraphie du monde romain, Macerata, 10-11 Novembre 1995, cur. G. Paci, Pisa 1998.
Eck W., Ein Brief des Antoninus Pius an eine bätische Gemeinde, [in:] Die Verwaltung des Römischen Reiches in der Hohen Kaiserzeit, Ausgewählte und erweiterte Beiträge, II, Basel ‒ Berlin 1998.
Fasolino F., Note in tema di pubblicità personale: la registrazione dei decessi a Roma, [in:] TSDP 1, 2008.
Fentress E., Where Were North african Nundinae Held?, [in:] Communities and connections: essays in Honour of Barry Cunliffe, cur. C. Gosden, H, Hamerow, P. de Jersey, G. Lock, Oxford 2007.
Frayn J. M., Markets and fairs in Roman Italy: Their social and economic importance from the second century BC to the third century AD, Oxford 1993.
Freis H., Historische Inschriften zur römischen Kaiserzeit von Augustus bis Konstantin, Darmstadt 1994.
Garcia Morcillo M., Las ventas por subasta en el mundo romano: la esfera privada, Barcelona 2005.
Gaudemet J., L'empire romain, a-t-il connus les foires, [in:] Recueil de la société J. Bodin 5, 1953.
Girard P. F., Senn F., Les lois des Romains, Napoli, 1977.
Gonzaléz J., Fragmento de epistula de antonino Pio, SDHI 1983, t. 49.
Groten A., Corpus und universitas. Römisches Körperschafts- und Gesellschaftsrecht: zwischen griechischer Philosophie und römischer Politik, Köln 2015.
Guérin V., Voyage archéologique dans a régence de Tunisi, Paris 1882.
Hamdoune C., Les points de ralliement des gentes, [in:] Antiquités africaines 37, 2001.
Hoffmann-Salz J., Die wirtschaftlichen Auswirkungen der römischen Eroberung. Vergleichende Untersuchungen der Provinzen Hispania Tarraconensis Africa proconsularis und Syria, Stuttgart 2011.
Huvelin P., Essai historique sur le droit des marchés et des foires, Paris 1897.
Johne K. P., Köhn J., Weber V., Die Kolonen in Italien und den westlichen Provinzen des römischen Reiches. Eine Untersuchung der literarischen, juristischen und epigraphischen Quellen vom 2. Jahrhundert v.u. Z. bis zu den severen, Berlin 1983.
Johnson A. Ch., Coleman-Norton P. R., Boume F. C., Ancient Roman Statutes, Austin 1961.
Kehoe D. P., The Economics of Agriculture on Roman Imperial Estates in North Africa, Göttingen 1988.
Klingenberger A., Sozialer Abstieg in der römischen Kaiserzeit. Risiken der oberschicht in der Zeit von Augustus bis zum Ende der Severer, Laderborn e.a. 2011.
Kroll W., << s.v. nundinae >>, [in:] RE 17.2, Stuttgart 1937.
Lassère J., Manuel d'épigraphie Romaine. I. L'individu – la cité, Paris 2005.
Levick B., The senatus consultum from Larinum, [in:] JRS 73, 1983.
Lewis N., Meyer R., Roman civilization: Sourcebook II: The empire, New York e.a. 1966.
López-Rendo R. M., Azaustre Fernández J. M., Algunas consideraciones sobre las ferias y los mercados en derecho romano y su receptión en derecho español, [in:] RidRom ottobre 2016.
Manfredini D. A., c. 4.60.1: Contro gli eccessi del ius nundinarum a favore dei nundinatores?, [in:] Quaderni catanesi di studi antichi e medievali 1, 2002.
Marzano A., Roman villas in central Italy: a social and economic history, Leiden 2007.
Mastino A., La pastorizia nel Nord africa e in Sardegna in età romana, [in]: Ex oppidis et mapalibus. Studi sulle città e le campagne dell'Africa romana (Roma e i provin-ciali/1), cur. A. Ibba, Ortacesus 2012.
Mattingly D., The Imperial economy, [in:] A companion to the Roman empire, cur. D. S. Potter, Malden e.a. 2006.
Mayer E. A., Legitimacy and law in the Roman World: Tabulae in Roman Belief and Practice, Cambridge 2004.
Meloni L., Le nundinae nel Nord africa: produzione, merci e scambi nell'economia dei vici, [in:] L'Africa romana: le ricchezze dell'Africa. Risorse, produzioni, scambi. Atti del 17. convegno di studio, 14-17 dicembre 2006, Sevilla, Spagna, cur. J. Gonzáles, P. Ruggeri, C. Vismara, R. Zucca, Roma 2008.
Merlin A., Observations sur le texte du senatus consultum Beguense, [in]: CRAI 50.7, 1906.
Millar F., The emperor in the Roman World (31 BC-AD337), London 1977.
Mommsen Th., Römisches Staatsrecht, III.2, Leipzig 1888.
Nicolet C., La tabula siarensis, la lex de imperio Vespasiani et le ius relations de l'empereur au sénat, [in:] MEFRA 100, 1988.
Nollé J., Eck W., Der Brief des Asinus Rufus an die Magistrate von Sardeis. Zum Markrechtsprivileg für die Gemeinde der Arillenoi, [in:] Chiron 26, 1996.
Nollé J., Nundinas instituere et habere: epigraphische Zeugnisse zur Einrichtung und Gestaltung von ländlichen Märkten in Afrika und in der Provinz Asia, Hildesheim e.a. 1982.
Pavis d'Escurac H., Nundinae et vie rurale dans l'Afrique du Nord romaine, [in:] BCTH 17 B, 1984.
Pergami F. (cur.), La legislazione di Valentiniano e Valente (364-375), Milano 1993.
Pflaum H. G., Les Fastes de la Province Narbonnaise, Paris 1978.
Purpura G., Diritto, Papiri e scrittura, Torino 1999.
Purpura G., Tabula Banasitana de viritana civitate, [in:] Revisione ed integrazione dei Fontes Iuris Romani anteiustiniani – FIRA. Studi preparatori. I. Leges, cur. G. Purpura, Palermo 2012.
Riccobono S., Baviera G., Ferrini C., Arangio Ruiz V. (cur.), Fontes iuri romani anteiustiniani [FIRA], I. Leges, Firenze 1950 [2007].
Ryan F. X., Rank and Participation in the Republican senate, Stuttgart 1998.
Schiller A. A., Roman law. Mechanism of development, Den Haag e.a. 1978.
Shaw B. D., Rural Markets in North Africa and the Political Economy of the Roman empire, [in:] Antiquités africaines 17, 1981.
Soricelli G., Saltus, [in:] A. Storchi Marino (cur.), Economia, amministrazione e fiscalità nel mondo romano. Ricerche lessicali, Bari 2004.
Sperandio M. U., Codex Gregorianus. Origini e vicende, Napoli 2005.
Storchi Marino A., Reti interregionali integrate e circuiti di mercato periodico negli indices nundinarii del Lazio e della Campania, [in:] Mercati permanenti e mercati perio-dici nel mondo romano. Atti degli Incontri capresi di storia dell'economia antica (Capri 13-15 ottobre 1997), cur. E. Lo Cascio, Bari 2000.
Talbert R. J. A., The Senate of Imperial Rome, Princeton 1984.
Toutain J., Le territoire des Musulamii, [in:] MSAF 57, 1898.
Varvaro M., Note sugli archivi imperiali nell'età del Principato, [in:] AUPA 51, 2006.
Verrico F., La composizione delle commissioni di trascrizione dei senatoconsulti (qui scri-bundo adfuerunt) nel primo principato, [in:] CCGG 28, 2017.
Volterra E., «s.v. senatus consulta», [in:] NNDI 16, Torino 1993 [1969].
Wenger L., Die Quellen des römischen Rechts, Wien 1953.
Wenger L., «s.v. Sententia», [in:] RE 2A, Stuttgart 1923.
Werner E., Consules ordinarii und consules suffecti als eponime amtsträger, [in:] Epigrafia. Actes du colloque International d'épigraphie latine en mémoire de Attilio Degrassi pour le centenaire de sa naissance. Actes de colloque de Rome (28-28 mai 1988), Roma 1991.
Wessely C., Studien zur Palaeographie und Papyruskunde, VIII, Amsterdam 1965.
Wilmanns G., S.C. de nundinis saltus Beguensis, [in:] EphEpigr. 2, 1874.
Zelener Y., Market dynamics in roman North africa, [in:] Mercati permanenti e mercati periodici nel mondo romano. Atti degli incontri capresi di storia dell'economia antica, Capri 13-15 ottobre 1997, cur. E. Lo Cascio, Bari 2000.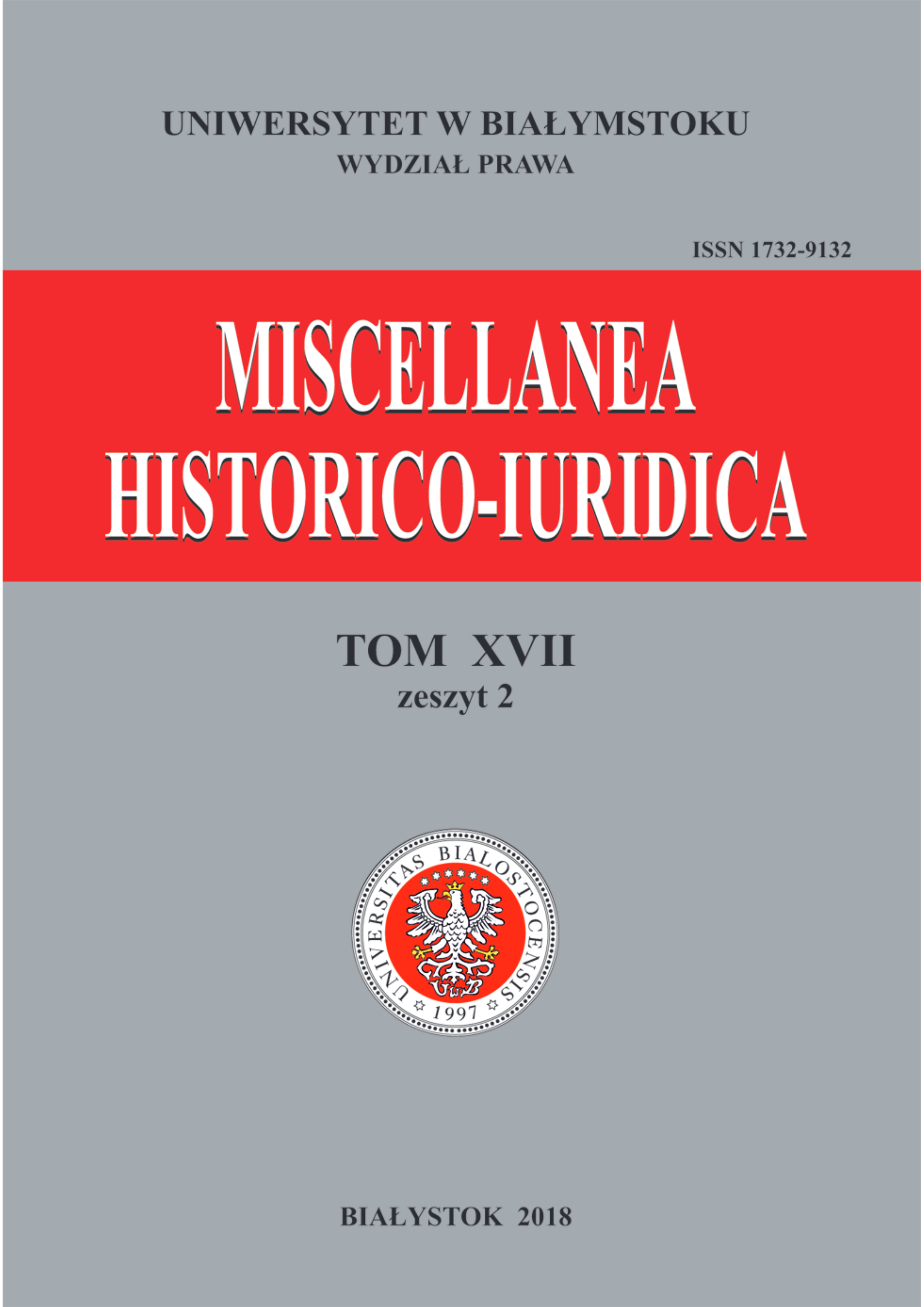 Downloads