Urban military articles in modern Europe. An outline of the issues
Keywords:
military articles, law of the crew, municipal authorities, Bardejov, Prague, Gdansk, Genoa
Abstract
Military laws, taking into account the entities issuing them, can be divided into five types. These are hetman's articles (announced by the chief commanders), royal articles (issued by the rulers), parliamentary articles (adopted by various representative bodies), confederate's articles (self-governing announced by all soldiers) and the urban articles, created by or under the authority of the city council. The paper presents characteristics of "urban military articles." These were the normative acts issued in the modern era directly by the city council or bodies acting under its authority. Promulgated acts were shorter than the other military articles, as in this case, military law was only complementary to the system of municipal law. These documents were primarily to ensure efficient supervision and control of the civilian municipal authorities over military troops. Civilians and private property was covered by special protection. Urban military articles imposed upon soldiers a fairly rigid moral framework, particular attention being given to the problems of alcoholism, prostitution, gambling, and even participation in urban amusements and festivities. More lenient penalties were applied in the urban military articles, which occurred the more strikingly the greater the proportion of urban citizens serving in the military. A sentence of imprisonment was provided more willingly, obviously using institutions operating in the cities.
Downloads
Download data is not yet available.
References
Archivio Segreto Vaticano: Commissariato delle Armi 46.
Archiwum Główne Akt Dawnych: Archiwum Radziwiłłów, dz. VII, sygn. 711.
Archiwum Państwowe w Gdańsku: 300, 18, III.
Biblioteka PAN Gdańsk: 1204, 2903.
Štatny archiv v Prešove, pobočka Bardejov: Magistrat mesta Bardejova, č. 1987.
Archiv für schweizerische Geschichte herausgegeben auf Veranstaltung der allgemeine geschichtforschende Gesellschaft der Schweiz, t. 12, Zürich 1858.
Articuls-Brieff und Kriegs-Ordnung Wornach E.E. Raths dieser Stadt Franckfurt geworbenes Kriegs-Volck zu Fuß, sich richten und verhalten sollen, Frankfurt 1644.
Белокуров С.А., Дневальные записки Приказа тайных дел. 7165-7183 гг., Москва 1908.
Briefe und Urkunden zur Geschichte Livlands in den Jahren 1558-1562, t. 3, 1559-1560, oprac. F. Bienemann, Riga 1868.
Calendar of State Papers, Domestic Series, of the Reign of Charles I. 1628-1629, oprac. J. Bruce, London 1859.
Code militaire des suisses, pour servir de suite a l'Histoire Militaire des Suisses, au servive de la France, par B.F. Zurlauben, t. 1-2, Paris 1764.
Corpus Iuris Militaris, t. 2, oprac. J.C. Lünig, Leipzig 1723.
Eines Ehrnvesten Hochweisen Raths der Stadt Leipzig, [et]c. Wacht-Ordnung, Lepipzig 1631.
Eines Erbarn Rahts dero Stadt Hildeßheimb Wacht Ordnung, [Hildeßheimb] 1626.
Eines Erbarn Raths Dieser Statt Franckfurt ernewerte Wachtordnung, Wornach sich die Capitain, Leutenant, und andere Befelchshabere/wie auch die jenigen, welche zu den Wachten auß der Bürgerschaff tallhier verordnet werden/jedesmals gemäß verhalten, [Frankfurt, Main] 1621.
Lawes and Ordinances of Warre, Established for the better Conduct of the Army by His Excellency The Earle of Warwick, London 1642.
Neue gemeine Wachtordnung wie sie ein Erb-Rath der St. Cölln hat aufgericht, Cölln 1586.
Ordnung, die wir markgrafe Albrecht gesetzt haben und wollen, dass sie von allen den un-sern soll gehalten werden, in massen hernach geschrieben steht, "Mitteilungsblatt der Fachgruppe Strafrecht in der Gesellschaft für Rechtsvergleichung" 1912, t. 33.
Pamiętniki o Koniecpolskich. Przyczynek do dziejów polskich XVII wieku, wyd. S. Przyłęcki, Lwów 1842.
Памятники русского права, Вып. 8: Законодательные акты Петра I, первая четверть XVIII в., oprac. К.А. Софроненко, Москва 1961.
Pramene k vojenským dejinám slovenska, t. 1/3: 1387-1526, oprac. V. Segeš, B. Šeďová, Bratislava 2013.
Relacja spraw gdańskich na sejmie walnym warszawskim roku 1570, b.m.w. [1570].
Sašové v Praze léta 1631, podal J. Erben, "Časopis Českého Museum" 1853, nr 27.
Wacht-Ordnunge, darnach sich ein jeder Rottmeister, Bürger und Einwohner der königlichen Stadt Dantzigk, in der Nachtwache, zurichten und zuverhalten wird wissen: Wie auch auff was weise der Rottmeister die Wacht heget, Danzig 1626.
Whitelocke B., A Journal of the Swedish Embassy in the years 1653 and 1654, t. 2, oprac. C. Morton, H. Reeve, London 1855.
Wirz J.H., Einrichtung und Disciplin eines Eidgnoßischen Regiments zu Fuß und zu Pferd, cz. 2, Zürich 1759.
Учение и хитрость ратного строения пехотных людей, Москва 1647.
Zignago L.M., Instituti et Ordini militari da osservarsi dalle truppe della Serenissima Repubblica di Genova, Genova 1722.
Anners E., Den Karolinska Militarstraff ratten och Peter den Stores Krigsartiklar, Uppsalla 1961.
Beck W., Die ältesten Artikelsbriefe für das deutsche Fußvolk, München 1908.
Błaszczyk G., Artykuły wojskowe i ich rola dla ustroju polskich sił zbrojnych i prawa wojskowego (do końca XVII wieku), "Czasopismo Prawno-Historyczne" 1979, R. 31, z. 2.
Bołdyrew A., Tedy na garle ma być karan. Kara śmierci w polskich ustawach i artykułach wojskowych za ostatnich Jagiellonów, [w:] Zabijać i umierać. Aspekty społeczno-kulturowe, red. B. Płonka-Syroka, A. Szlagowska, Wrocław 2010.
Branecki T., Powstanie i rozwój Konfederacji Szwajcarskiej w latach 1291-1515, "Studia Iuridica Lublinensia" 2013, R. 19.
Brunelli G., Soldati del papa: politica militare e nobiltà nello Stato della Chiesa: 1560-1644, Rome 2003.
Burschel P., Söldner im Nordwestdeutschlanddes 16. und 17. Jahrhunderts, Göttingen 1994.
Ciara M., Konfederacje wojskowe w Polsce w latach 1590-1610, "Studia i Materiały do Historii Wojskowości" 1988, R. 31.
Cieślak E., Walki społeczno-polityczne w Gdańsku w drugiej połowie XVII wieku: interwencja Jana III Sobieskiego, Gdańsk 1962.
Cieślak E., Wojskowo-polityczne i gospodarcze znaczenie Gdańska w wojnie polsko-szwedzkiej, [w:] Wojna polsko-szwedzka 1655-1660, red. J. Wimmer, Warszawa 1973.
Danziger Stadtbibliothek verferrtigt und herausgegeben im Auftrage der städtischen Behörden, t. 2, Katalog der Handscliriften, cz. 2, oprac. O. Günther, Danzig 1903.
Drabiński N., Z dziejów okupacji szwedzkiej Elbląga w latach 1626 – 1635, "Rocznik Elbląski" 1963, R. 2.
Dybaś B., Dzieje wojskowe Torunia w latach 1548-1660, [w:] Historia Torunia, t. 2, cz. 2, W czasach renesansu, reformacji i wczesnego baroku (1548-1660), red. M. Biskup, Toruń 1994.
Dybaś B., Fortece Rzeczypospolitej. Studium z dziejów budowy fortyfikacji stałych w państwie polsko-litewskim w XVII wieku, Toruń 1998.
Dybaś B., Wielkie miasta Prus Królewskich w dobie wojny północnej, "Czasy Nowożytne" 2001, t. 10.
Ebel W., Die Kriegsartikel der Rostocker Soldaten im 30-jährigen Kriege, "Beiträge zur Geschichte der Stadt Rostock" 1940/41, R. 22. Frost R.I., Confessionalisation and the army in the Polish–Lithuanian Commonwealth, 1550-1667, [w:] Konfessionalisierung in Ostmitteleuropa. Wirkungen des religiösen Wandels im 16. und 17. Jahrhunderts in Staat, Gesellschaft und Kultur, red. J. Bahlcke, A. Strohmeyer, Stuttgart 1999.
Godin F.T.J., Inventaris van de collectie: De Graaff (Militair strafen tuchtrecht), Den Haag 2008.
Griff in M., Regulating Religion and Morality in the King's Armies, 1639-1646, Leiden-Boston 2004.
Gunn S., Grummitt D., Cools H., War, State, and Society in England and the Netherlands, 1477-1559, Oxford – New York 2007.
Haas L., Schweden und die Schweiz: ein Rückblick in die Vergangenheit, "Schweizerische Zeitschrift für Geschichte" 1964, R. 14.
Hahlweg W., Das Kriegswesen der Stadt Danzig: durch eine Einfuhrung und einen Dokumenten-Anhang erweiterter Neudruck der Ausgabe Berlin 1937, t. 1, Das Kriegswesen der Stadt Danzig: Die Grundzüge der Danziger Wehrverfassung 1454-1793, Osnabrück 1982.
Hane J., Militärisches aus dem Alten Zürichkrieg. Zur Entwicklungsgeschichte der Infanterie, Zurich 1928.
Häne J., Zürcher Militär und Politik im zweiten Kappelerkrieg: eine neue Kriegsordnung, "Jahrbuch für schweizerische Geschichte" 1915, R. 38.
Hart M.C., The Making of a Bourgeois State: War, Politics and Finance during the Dutch Revolt, Manchester 1993.
Kaczmarek M., Wrocław: dziedzictwo wieków, Wrocław 1997.
Калинычев Ф. И., Правовые вопросы военной организации русского государства второй половины XVII века, Москва 1954.
Knapp H., Das alte Nürnberger Kriminalrecht. Nach Rats-Urkunden Erlautert, Berlin 1896.
Koranyi K., Über schweizerische Kriegsartikel besonders im 17. Jahrhundert, "Allgemein Schweizerische Militärzeitschrift" 1939, nr 85.
Koranyi K., Żołnierz najemny a żołnierz zaciężny, "Czasopismo Prawno-Historyczne" 1948, R. 1.
Krokosz P., Aspekt religijny w strukturach rosyjskich sił zbrojnych za panowania Piotra I, "Україна в Центрально-Східній Європі" 2015, Вип. 15.
Landolt O., Die Kriminalisierung von Kriegsverbrechen. Das Beispiel der spätmittelalterlichen Eidgenossenschaft, [w:] Kriminalisieren – Entkriminalisieren – Normalisieren, red. C. Opitz, B. Studer, J. Tanner, Zürich 2006.
Lehr H., Les Protestants d'autrefois; vie et institutions militaires, Paris 1901.
Lorenz M., Schwedisches Militär und seine Justiz: Einblicke in das Verhältnis von Rechtsnorm und Alltag in der Garnison Stralsund ca. 1650 bis 1700, [w:] Gemeinsame Bekannte: Schweden und Deutschland in der Frühen Neuzeit, red. I. Asmus, J.E. Olesen, Münster 2003.
Łopatecki K., "Disciplina militaris" w wojskach Rzeczypospolitej do połowy XVII wieku, Białystok 2012.
Łopatecki K., Artykuły wojskowe autoramentu cudzoziemskiego Władysława IV – okoliczności powstania i ich charakterystyka, "Zeszyty Prawnicze UKSW" 2011, R. 11, z. 2.
Łopatecki K., Charakterystyka "miejskich artykułów wojskowych" na przykładzie Rigischer Artikelsbrieff z 1600 roku, "Zapiski Historyczne" 2013, R. 78, z. 2.
Łopatecki K., Cuius regio eius religio w wojskach Rzeczypospolitej? Kwestia wolności głoszenia wiary wśród żołnierzy w latach dwudziestych XVII wieku, [w:] Studia nad Reformacją, red. E. Bagińska, P. Guzowski, M. Liedke, Białystok 2010.
Łopatecki K., Najstarsze północnoamerykańskie artykuły wojskowe, "Czasopismo Prawno-Historyczne" 2013, R. 65, z. 1.
Łopatecki K., Organiściak W., Udział parlamentu angielskiego i sejmu Rzeczypospolitej szlacheckiej w pracach nad artykułami wojskowymi, [w:] Kultura parlamentarna epoki staropolskiej, red. A. Stroynowski, Warszawa 2013.
Łopatecki K., Przestępstwo ucieczki z pola bitwy w Rzeczypospolitej szlacheckiej – z badań nad karą śmierci wymierzaną w trybie pozasądowym, [w:] Culpa et poena. Z dziejów prawa karnego, red. M. Mikuła, Kraków 2009.
Łopatecki K., Religijność żołnierzy w świetle artykułów wojskowych – założenia metodologiczne, "Orientalia Christiana Cracoviensia" 2014, R. 6.
Łopatecki K., Udział "sejmików" wojskowych przy tworzeniu i ogłaszaniu artykułów woj-skowych w XVI i XVII stuleciu, "Miscellanea Historico-Iuridica" 2013, R. 12.
Łopatecki K., Wydawanie artykułów wojskowych jako element walki politycznej i działalności propagandowej magnatów – przykład Jana Zamoyskiego, [w:] Wobec Króla i Rzeczpospolitej. Magnateria w XVI-XVIII wieku, red. E. Dubas-Urwanowicz, J. Urwanowicz, Kraków 2012.
Magnuszewski W., Z dziejów elearów polskich. Stanisław Stroynowski lisowski zagończyk, przywódca i legislator, Warszawa-Poznań 1978.
Menzel C.A., Topographische Chronik von Breslau, t. 1, Breslau 1805.
Mikołajczyk M., Proces kryminalny w miastach Małopolski XVI-XVIII wieku, Katowice 2013.
Muszyński J., Przestępstwa wojskowe a przewinienia dyscyplinarne w polskim prawie wojskowym, Warszawa 1967.
Organiściak W., Kara śmierci w prawie wojskowym Rzeczypospolitej szlacheckiej od XVI do XVIII wieku, "Problemy Prawa Karnego" 1994, R. 20.
Organiściak W., O inkwizycji generalnej w XVIII-wiecznym wojskowym procesie karnym, [w:] Z dziejów prawa, red. A. Lityński, cz. 4, Katowice 2004.
Organiściak W., Tymczasowe aresztowanie w polskim prawie wojskowym w XVIII wieku, [w:] Z dziejów prawa Rzeczypospolitej Polskiej, red. A. Lityński, Katowice 1991.
Organiściak W., Wojskowe prawo karne a idee humanitarne w Rzeczypospolitej XVIII wieku, "Problemy Prawa Karnego" 1993, R. 19.
Organiściak W., Z badań nad karami na ciele w prawie wojskowym Rzeczypospolitej szlacheckiej w XVI-XVIII wieku, [w:] Z dziejów prawa, red. A. Lityński, cz. 3, Katowice 2002.
Organiściak W., Z badań nad karą pozbawienia wolności w wojskowym prawie karnym Rzeczypospolitej szlacheckiej, [w:] Z dziejów sądów i prawa, red. A. Lityński, Katowice 1992.
Pablo J. de, Contribution à l'étude des institutions militaires huguenotes, t. 2, L'armée hu-guenote entre 1562 et 1573, "Archiv fur Reformationsgeschichte" 1957, R. 48.
Pálff y G., Háborúk, hadsereg és város a 16. századi Magyarországon, [w:] Armáda, mesto, spoločnost od 15. storočia do roku 1918 (Vojenské, politické, hospodárske aspekty a súvislosti), Bratislava 2002.
Rainmontler M. de, Histoire Militaire de la Suidde et celle des Suisses dans les Diferens services de L'Europe, t. 4 i 6, Lausanne 1788. Rapetti G., Una esatta disciplina. La giustizia militare al tempo del Re Sole: il caso dell'eser-cito genovese, "Storiadelmondo" 2004, R. 20, [czasopismo wydawane w wersji elektronicznej: http://www.storiadelmondo.com/20/rapetti.esercitogenove-se.pdf].
Rozenkranz E., Gdańska archeologia prawna, Gdańsk 1993.
Rymaszewski Z., Sprawy gdańskie przed sądami zadwornymi oraz ingerencja królów w gdański wymiar sprawiedliwości XVI-XVIII w., Wrocław-Warszawa-Kraków-Gdańsk-Łódź 1985.
Salmonowicz S., Prawo karne oświeconego absolutyzmu. Z dziejów kodyfikacji karnych przełomu XVIII/XIX w., Toruń 1966.
Saluces A. de, Histoire Militaire du Piémont, t. 1, Turin 1818.
Schiemann T., Revaler Landsknechte zur Zeit der ersten Russennoth, [w:] Baltische Monatsschrift, red. F. Bienemann, t. 32, Reval 1885.
Schwark T., Lübecks Stadtmilitär im 17. und 18. Jahrhundert: Untersuchungen zur Sozialgeschichte einer reichsstädtischen Berufsgruppes, Lübeck 1990.
Schnettger M., "Principe sovrano" oder "Civitas imperialis"? Die Republik Genua und das Alte Reich in der frühen Neuzeit (1556-1797), Mainz 2006.
Segeš V., Mestá v uhorskom vojenstve na konci stredoveku, [w:] Armáda, mesto, spoločnost od 15. storočia do roku 1918 (Vojenské, politické, hospodárske aspekty a súvislosti), Bratislava 2002.
Seredyka J., Sejm w Toruniu w 1626 roku, Wrocław – Warszawa – Kraków 1966.
Spieralski Z., Z problematyki wzajemnych kontaktów między polską i husycką sztuką wojenną, "Wojskowy Przegląd Historyczny" 1957, R. 2, z. 2.
Stache A., ... der scharff e Sebel ist mein Acker...: Alltags- und Sozialgeschichte frühneuzeitlicher Söldner in Bildquellen für die Sekundarstufe II, Potsdam 2005.
Stehlin K., Der Sempacherbrief, "Basler Zeitschrift für Geschichte und Altertumskunde" 1925, R. 23.
Stettler B., Der Sempacher Brief von 1393: ein verkanntes. Dokument aus der älteren Schweizergeschichte, "Schweizerische Zeitschrift für Geschichte" 1985, R. 35.
Swart E., From "Landsknecht" to "Soldier": The Low German Foot Soldiers of the Low Countries in the Second Half of the Sixteenth Century, "International Review of Social History" 2006, R. 51.
Swart E., Krijgsvolk. Militaire professionalisering en het ontstaan va het Staatse leger, 1568-1590, Amsterdam 2006.
Suproniuk J., Miejskie służby porządkowe a społeczeństwo w Polsce XIV-XVI w., "Przegląd Historyczny" 1999, t. 90, z. 2.
Tracy J.D., The Founding of the Dutch Republic. War, Finance, and Politics in Holland 1572-1588, Oxford – New York 2008.
Wagner M., Prawa i obowiązki oficerów armii koronnej w drugiej połowie XVII w. Ze studiów nad rozwojem prawa wojskowego w dawnej Rzeczypospolitej, "Studia i Materiałz do Historii Wojskowości" 1994, t. 36.
Wernicke J.E., Geschichte Thorns aus Urkunden, Dokumenten und Handschriften, t. 2, Die Jahre 1531-1840, Thorn 1842.
Węsierska-Biernatowa T., Czaplicka J., Sławoszewska M., Archiwum miasta Gdańska. Przewodnik po zespołach 1253-1945, Warszawa 1970.
Викторский С.К., История смертной казни в России, Москва 1912.
Wojtowicz J., Historia Szwajcarii, Wrocław – Warszawa – Kraków – Gdańsk 1976.
Ujma M., "Nouvelles Ordinaires" wobec problemów związanych ze Śląskiem doby kontrreformacji w latach 1631-1648, "Studia Śląskie" 2005, t. 64.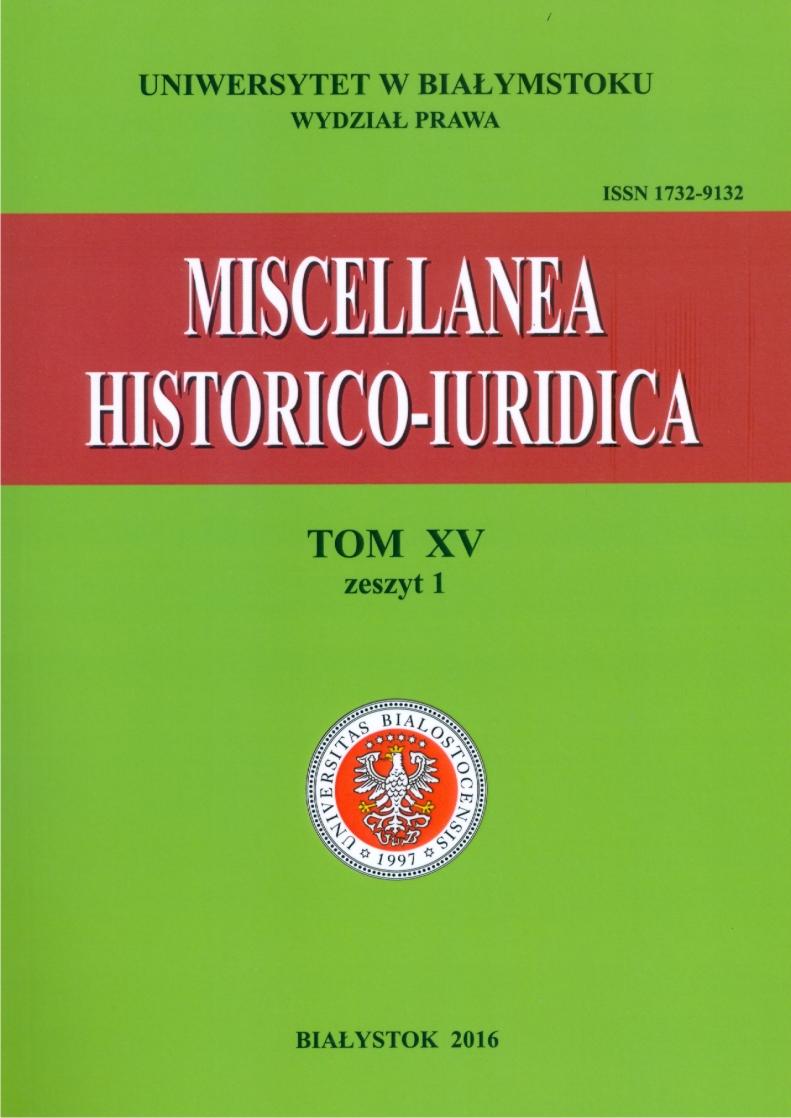 Downloads